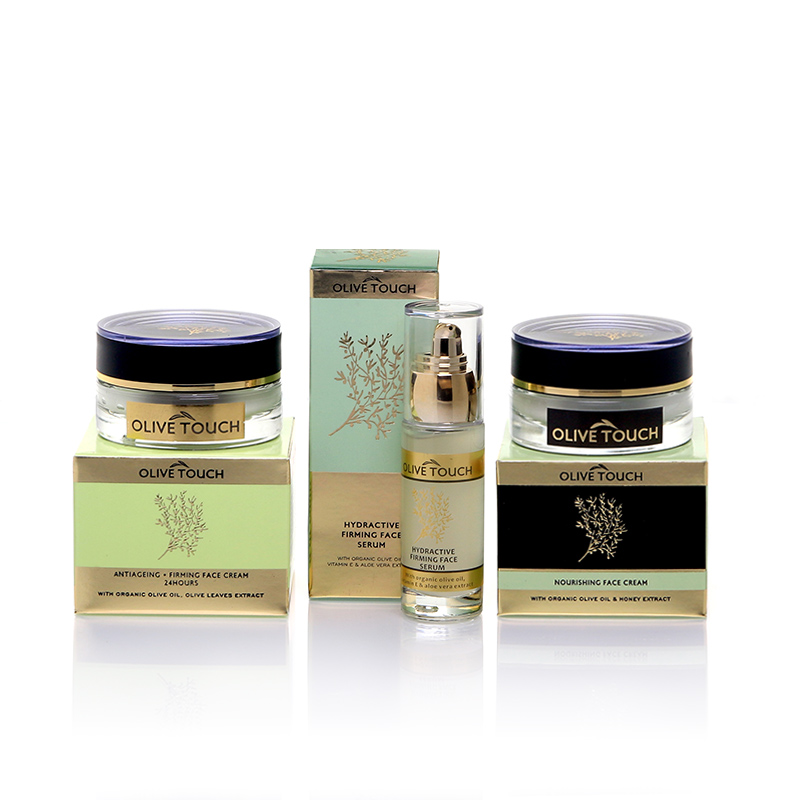 Cosmetics with organic olive oil
A soft and perfectly natural touch of beauty
Olive oil cosmetics shows antioxidant, regenerative and softening effects that have been known for thousands of years.  In fact, ancient Greeks, Romans and Egyptians, used olive oil, as well as olive tree leaves in cooking and in skin care. In this context, it is no accident that Homer referred to olive oil as "liquid gold" and Hippocrates as "the great healer".
The surprising properties of olive oil are due to its unique composition. More specifically, it is rich in vitamins A, D, K and E, which contribute to the healthy growth and regeneration of the skin. Indeed, vitamin E promotes the natural production of collagen, which increases the elasticity of the skin and eliminates wrinkles. At the same time, olive oil contains squalene, a substance that enhances it with antioxidant properties. Thanks to squalene, olive oil protects and can even repair the damage caused to the skin by carcinogenic ultraviolet radiation. Another beneficial property of olive oil is its antibacterial action, with incredible results in cases of acne. Last but not least, pure olive oil hydrates and moisturizes the skin.
Vita Shop brings to you the gifts of nature, such as organic olive oil formulations that will make your skin youthful and shiny. Besides, the secret of youth and beauty is undoubtedly hidden in natural ingredients like olive oil. As it has already been mentioned, olive oil shows many beneficial properties. Thus, the natural Olive oil cosmetics we offer can cover everything related to face care, from cleansing to hydration, with emphasis on toning and anti-aging.
Greek, organic olive oil blends harmoniously with propylene glycol and paraffin oil, creating the softest touch on your skin. All of the Olive oil cosmetics are certified and are dermatologically tested and do not contain parabens.
CHECK OUT OUR OTHER CATEGORIES