Organic Aronia Juice 200ml
3,50€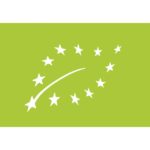 Organic Aronia Juice
Bottle of 200ml
Description
All of our juices are organic, sugar free and preservative free. The only ingredient is the fruit!
Recomment
Aronia helps to normalize blood pressure, fight hypertension, and treat other cardiovascular diseases.
It reduces stress hormone levels and the feeling of fatigue.
It has powerful antioxidant effects, helping to reduce cellular aging.
It is beneficial for pregnant women, children, people with diabetes, athletes and patients undergoing complex treatments.
It treats urinary tract infections.
It has hypoallergenic effects.
Consumer Instructions
Recommended consumption 50 grams daily.
Ingredients
100% Organic Aronia
Nutrition Facts
| | 100g |
| --- | --- |
| Energy | 75 kcal |
| Fat | 0,5g |
| Sodium Chloride (Salt) | 0,02g |
| Carbohydrates | 22.3g |
| Dietary Fiber | 11,1g |
| Sugar | 9,2g |
| Protein | 0,9% |